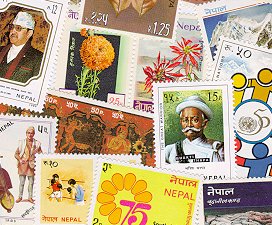 All those interested in Nepali Postage Stamps can contact the following address:

Officer in Charge
Nepal Philatelic Bureau
GPO Building
Sundhara, Kathmandu, Nepal

Tel: 977-1-241895

Deposit account may be opened with a minimum of US 25 dollars or equivalent. Any order required from time to time may be placed along with remittance sufficient to cover the cost of stamps, postage and handling.

Payment can be made through cheque, bank draft, or any method payable to the Nepal Philatelic Bureau or through Nepal Rastra Bank Account No. SA.A.Deposit:- 1549/053/54.

Orders may be made for: mint stamps in single, strips, blocks, sheets, First Day covers, folders, and postal stationaries.